Tire building machines are an essential part of tire production, but with more complex designs, varying product sizes and different compounds, they must be flexible enough to cope with changing manufacturing priorities. TTI finds out what's involved 
Advancing technology from VMI Group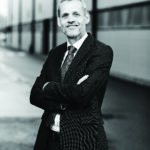 Jan Grashuis, vice president of global product management at VMI Group, believes that EV tires have not yet developed beyond the capabilities of current tire building equipment. Instead, manufacturing trends prompt the development of machine technology. "If you look back a few years, the focus was on handling and wet grip. Now, it's rolling resistance."
') } else { console.log ('nompuad'); document.write('') } // -->
') } else if (width >= 425) { console.log ('largescreen'); document.write('') } else { console.log ('nompuad'); document.write('') } // -->
This has a knock-on effect. Grashuis explains, "All the layers in a tire become thinner and harder to handle. When all the gauges become thinner, the effect of all deviations has more influence on the tire performance and the uniformity of a tire. So the accuracy of the tire building machines becomes more important."
Grashuis details how, in recent years, more quality inspection systems have been installed to ensure machines are operating consistently: "The tire business is trying to evolve to a high level of process control using capability indexes. This sets requirements of the machine but also the camera systems, the consistency and the menu that explains how to check and how to set up the machine."
Difficulties employing machine operators can affect product consistency if the machine relies too much on manually set parameters. Automation and straightforward user interaction with the machine help to minimize the influence of a single operator on the final product.
"The machines should be operable by an inexperienced workforce," Grashuis says. "More knowledge should be inside the machine and it should depend less on the knowledge of the operator."
VMI's Maxx radial passenger TBM was introduced with what Grashuis calls the "hands-off, eyes-off process". This approach means "the operator is not actively involved in the production of the tire, but they are still loading materials and solving problems. More and more, the machine has to be autonomous."
Grashuis believes that modular machines are the most cost-effective way for customers to quickly adopt higher levels of automation. "I think the economic lifecycle of a machine would be around 10 years for most customers," he says. "But we have seen machines run for 25-30 years. We usually do a lot of retrofits, upgrades, new service systems, new controls, new features. Maxx, for example, can be seen as more of a platform, so you can expand it to new needs."
For VMI customers, this tends to increase efficiency and reduce reliance on staff. On older machines, operators had more control to input certain parameters. However, says Grashuis, "That's not possible anymore. Everything is servo driven. Operators can only push the buttons and the tires will stay the same. The influence of the operator is less and overall consistency improves."
The role of software is also subject to huge change across the industry. "The amount of software in the machine has gone up incredibly over the last 10 years," Grashuis admits. "When I started working at VMI, there were maybe five to 10 servo motors in a TBM. Now we have machines with more than 100 servos and many cameras."
Consolidating several functions into the same machine can help make equipment more efficient, flexible and able to handle difficult materials: "If you make a component inside the TBM, it can be much thinner because you will hold it all the time, it's not hanging in loops, it's not stored, so there's much less risk that it deforms or loses its properties."
This can be beneficial when producing tires that use a higher percentage of sustainable materials. Current compounds are relatively easy to handle but as manufacturing priorities have changed, Grashuis explains, "Compounds have been designed more for tire performance and less for the tire-building process."
He continues, "A machine that makes the components inside is certainly bigger than a conventional tire building machine, but you save on the other parts of the factory where the cutters are, where the lines are and where the storage is."
Grashuis believes that providing manufacturers with more flexible equipment enables them to develop and produce more sustainable tires. But machine development also focuses on higher levels of accuracy to reduce the environmental impact of manufacturing. Automation can reduce waste, ensuring measurements are accurate and defects are identified quickly.
"If you see that splices are out of tolerance, you can stop the machine immediately, correct it or reapply one layer, instead of finding it after curing the tire and then having to scrap it."
Automation and efficiency at Hankook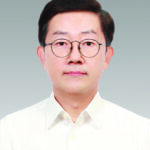 Hankook's VP of machinery and digital engineering, Jae Hee Kim, believes automatic tire building is a promising trend, and soon expects to see the complete automation of manufacturing: "We believe that in the near future there will be only one person or no one at all needed at the site to operate multiple building machines."
To achieve this, he says, machines should be fitted with "advanced automation technologies such as ICT, machine learning, robotics and sensor technology to help automate the tire production processes and ensure precision, efficiency and quality".
Hankook factories use high-end TBMs with automated mechanical drum technology. Modern equipment also facilitates the splicing of components, which was previously performed manually. "Winding of pre-assemblies required meticulous care and time," says Kim. "In recent years, however, as this process has become mostly automated, it's led to reduced time loss and increased productivity."
As trends such as electrification and autonomous driving continue to develop, tire manufacturers must be not only innovative but also able to quickly usher that innovation from design into production. To stay competitive, Kim says, "Digital technology is no longer a 'want to' in the manufacturing environment, but a 'must' to respond to changing consumer demands, a changing workforce and a fluctuating economy.
"The future will require even greater standardization, automation and efficiency through customized solutions based on digital technology."
Kim doesn't believe that the growing demand for EV tires will have a large impact on what TBMs are required to do in the short term. Instead, the focus for Hankook is on machines that improve manufacturability. "In order to minimize defects caused by structural characteristics of EV tires, building equipment setting and mechanical building drum optimizations are in progress," he says. "A TBM strategy is being reviewed for mass production of OE EV products, which are expected to increase in size."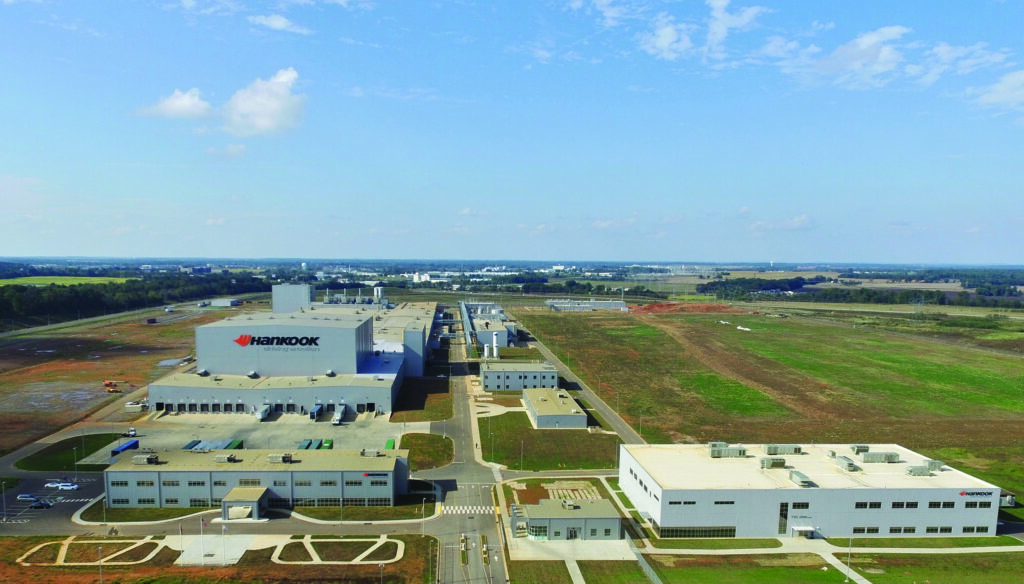 Kim expects modularization to be key to implementing new tire building technologies, as well as the optimization of existing equipment for new product designs and applications. Modular solutions present a more cost-effective way to increase flexibility and handle the diversification of the market.
"Recently, the demand for high-precision products is also increasing, leading to a growing number of cases where structures and sections that are difficult to implement in conventional high-productivity facilities must be realized," he explains.
These products require smaller batch manufacturing, meaning that, "Even if some facility productivity is sacrificed, there is a demand for maximized freedom of development. Once this freedom is secured and productivity has improved, a new manufacturing paradigm with a new method will be established."
Tire building equipment is part of Hankook's smart factory initiative, which includes automation and digitalization as a means to increase operational efficiency and minimize resource waste.
Digital integration at Continental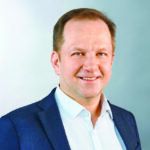 According to Michael Mein, Conti's head of machine technology, segment tire machinery and stock preparation, in the coming years, "The focus will be on highly automated integrated processes. We need a high level of automation with the flexibility to produce a lot of sizes."
Echoing his peers, Mein believes, "Modularity and the possibility to upgrade are very important to extend the lifetime of the machines, which in turn reduces our overall resource consumption." Modular retrofitting to existing machines enables Conti to cost-effectively keep pace with changing manufacturing trends without purchasing new machines.
Continental continues to incorporate digital solutions into its operator training program. "Machine operators will be trained theoretically – among other things via simulations, and more recently via virtual reality," Mein explains. "During the practical part, experienced operators assist the new ones at the beginning."
Having the ability to train new operators in this way is ideal, but Mein acknowledges that there is a shortage of qualified operators in some regions, making higher levels of automation necessary to keep production consistent. "Automation is a focus topic for us. It helps to further improve the quality, safety and efficiency of our processes."